Softwarearchitekt - Java / C# (m/w/d)
applyButton.without applyButton.twoMinutes
Merken
share
nudge.fastReply
Softwarearchitekt - Java / C# (m/w/d)
applyButton.without applyButton.twoMinutes
Merken
share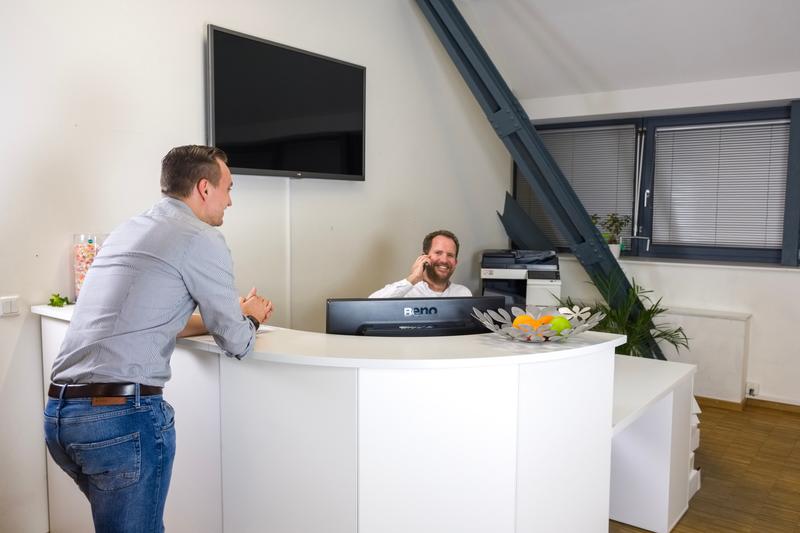 Was erwartet dich?
Du entwirfst, verbesserst und entwickelst Softwarearchitekturen weiter
Du evaluierst und vermittelst technische Konzepte
Du verantwortest die Architektur-Dokumentation (z.B. mithilfe von Modellierungswerkzeugen)
Du unterstützt bei Code-, Design- und Architekturreviews
Du wirkst bei der Qualitätssicherung mit
Je nach Erfahrung übernimmst du fachliche Führungsverantwortung in Projekten
Was bieten wir dir?
30 jobDetails.hours.until 40 jobDetails.hours.hours jobDetails.hours.perWeek
jobDetails.mobilityFlexible.with
jobDetails.projectAvailability.fromNow jobDetails.projectAvailability.searched
jobDetails.leadershipExperience.without
jobDetails.workExperience.with
Anspruchsvolle und abwechslungsreiche Projektarbeit bei namhaften und interessanten Kunden
Regelmäßige Weiterbildungen mit international anerkannten Zertifizierungen und persönlichen Coachings
Interne Fachforen, die gewährleisten, dass du an allen technischen Neuerungen und den Projekten deiner Kolleginnen und Kollegen teilhaben kannst
Flache Hierarchien, Freiräume für deine Ideen und hervorragende Perspektiven für deine persönliche Entwicklung
Bezahlte Weiterbildung
Sabbatical möglich
Betriebliche Altersvorsorge
Faire Vergütung
Agiles Arbeiten
Flache Hierarchien
Onboarding Programm
Regelmäßige Feedbackgespräche
Coaching-Angebote
Finanzierung / Darlehen möglich
Sport- und Erholungsangebote
Fahrtkostenzuschuss
Verpflegungszuschuss
Design Thinking
Förderung von Mitarbeiterinitiativen
Projektverantwortung
Startupflair
Was solltest du mitbringen?
Du verfügst über ein Fach-/Hochschulstudium der Informatik oder eine vergleichbare Ausbildung, sowie über mehrjährige Projekterfahrung in der Software-Entwicklung/-Architektur
Du hast sehr gute Kenntnisse im Bereich Java, C# oder vergleichbaren Technologien
Du besitzt Erfahrung bei der Anwendung unterschiedlicher Architekturmuster sowie mit DevOps und einer CI/CD Infrastruktur
Idealerweise bringst du Vorwissen aus dem Bereich Qualitätssicherung und der Durchführung von technischen Reviews mit
Sehr gute Deutschkenntnisse in Wort und Schrift runden dein Profil ab, Englischkenntnisse sind wünschenswert
Du bringst für die Kundenprojekte eine hohe bundesweite Reisebereitschaft mit
requirements.competencies
aboutCompany.fallbackTitle
100-249 employees
IT
Mittelständler
Braunschweig
Wir sind ein bundesweit tätiger IT-Dienstleister für Softwareentwicklung, IT-Management und IT-Projektmanagement aus Braunschweig. Wir unterstützen unsere Kunden aus der Automotive-, Finanz- und ECommerce-Branche bei der Planung und Realisierung individueller IT-Projekte. Dafür suchen wir neue Talente.
Unser Standort
Wir sind ein bundesweit tätiges Unternehmen mit Hauptsitz in Braunschweig. Dort arbeiten unser Studententeam und unser Backoffice. Unsere Entwickler/innen und Berater/innen sind entweder remote oder vor Ort in den verschiedenesten deutschen Standorten eingesetzt.
Gute Anbindung an ÖPNV
Innenstadtlage
Restaurants in der Umgebung
Supermarkt in der Umgebung
questionsAndAnswers.title
questionsAndAnswers.content.aboutWorkwise.question
Workwise is more than just a job board. We do the recruiting for various companies and support you in the entire application process. Apply for different jobs quickly and easily with your Workwise supports us in recruiting. Through your Workwise profile.
questionsAndAnswers.content.jobAvailability.question
questionsAndAnswers.content.jobAvailability.answer
questionsAndAnswers.content.applicationDocuments.question
That depends entirely on the job you are applying for. In many cases it is sufficient to upload your PDF resume or fill out your Workwise profile.
questionsAndAnswers.content.documentsUpload.question
You will be asked for the requested application documents in the application process and you can easily add them to your application there. If you want to add more documents to your applications, you can upload them to your Workwise profile. They will then automatically be available to the companies to which you have applied.
questionsAndAnswers.content.moreInfoAboutCompany.question
questionsAndAnswers.content.myApplicationProcess.question
Yes, this is possible. In your applications you can view your information and make changes. If you have already been invited to an interview, editing is no longer possible. However, you can still add general information and upload additional documents in your Workwise profile.
questionsAndAnswers.content.applicationNews.question
In your application overview, you have an overview of the application progress at any time. Additionally, we send you emails about the most important status changes.
questionsAndAnswers.content.multipleApplications.question
The number of your applications is not limited. An overview of your applications can be found here.
questionsAndAnswers.content.applicationsSafety.question
questionsAndAnswers.content.applicationsSafety.answer
questionsAndAnswers.content.contactCompanyDirectly.question
Personal contact is possible via chat as soon as you have been invited for an interview. Before that, you will receive all important status changes by e-mail. If you have any questions, you can contact your personal Candidate Manager from Workwise.
questionsAndAnswers.content.meetingTheRequirements.question
questionsAndAnswers.content.meetingTheRequirements.answer
questionsAndAnswers.content.foreignApplicant.question
Please make sure to provide all necessary documents within your Workwise profile. It should include an EU work-permit (if you have no EU citizenship) and a CV at least. Depending on the position you are applying to, you could also be asked for a certificate of enrollment, a transcript of records or a language certificate. We would also recommend to inform yourself thoroughly in advance about visa regulations. Therefore you can use the official visa navigator from the Federal Foreign Office.
questionsAndAnswers.content.nonGermanSpeaker.question
Please take into account the job's language requirements and make sure the requirements match your skills. In the job search you can use the language filter to find jobs without German language requirements. It is also helpful to provide language certificates. This section in our help center may support you during the application process.
Our job offerSoftwarearchitekt - Java / C# (m/w/d)sounds promising? We're looking forward to your application.
applyButton.without applyButton.twoMinutes